Step 2/3 and Stepped care model
The italk service provides Step 2 and Step 3 treatment options to patients but works on a model of stepped care in partnership with other organisations and services.
The NICE guidelines recommend that psychological treatments are delivered based on the following "stepped care model" which ensures that the treatment offered to people is appropriate to their needs. The dark blue park of the pyramid represents the steps delivered by italk.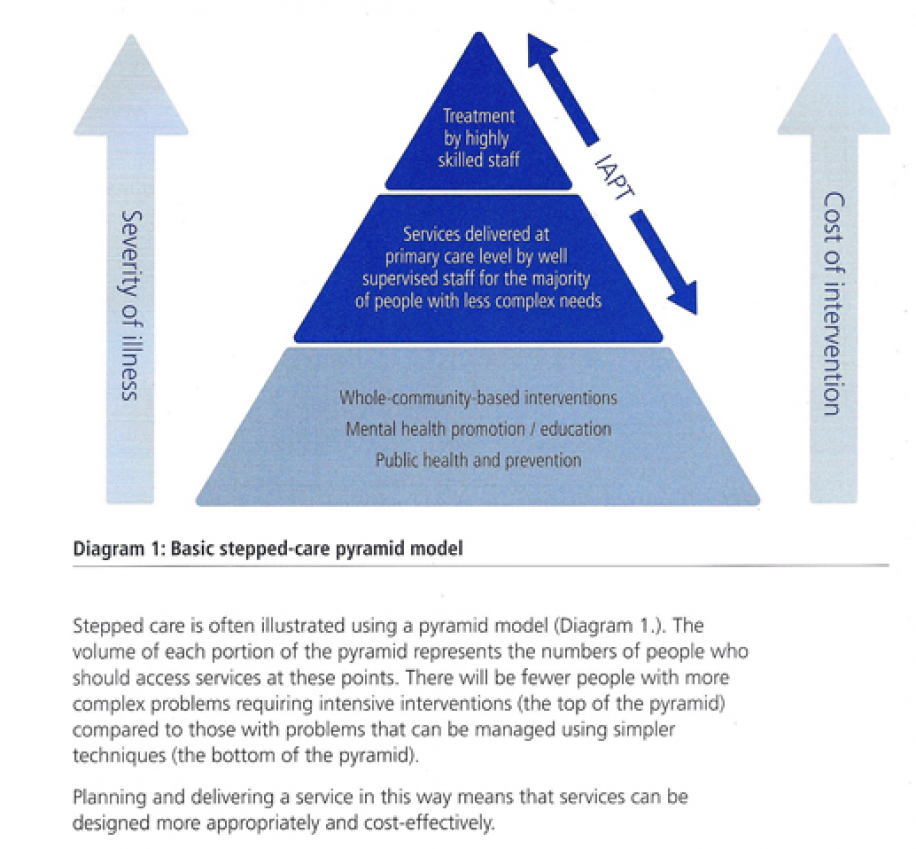 The treatments offered at italk are listed below:
Cognitive Behavioural Therapy
Guided Self Help
Computerised CBT
Employment Support
Group Workshops
Lifestyle Support
Medication Advice
CBT-i for Insomnia
Couples Therapy for Depression
Counselling for Depression
Interpersonal Therapy
Signposting to other services
For a full explanation of the treatment options click here.
The Step 2 treatments are delivered by Psychological Wellbeing Practitioners (PWP)

The PWP is a professional role which involves the practitioner acting as a coach to support, motivate and encourage patients. PWPs use a range of interventions individually tailored to each patient's needs as they work together towards recovery. These are usually delivered over the telephone which has proved to be a very welcome resource for our patients. We can offer face to face appointments in certain circumstances, for example people who are hard of hearing or have a telephone phobia.
The Step 3 treatments are delivered by High Intensity Therapists (HIT)

The HIT is a professional role delivering weekly therapy sessions, usually face-to-face with the patient. HIT work directly with the patient to support his/her needs, compiling a list of the difficulties the individual may be facing, the goals the patient would like to achieve and how to work together to achieve this.
The italk service works with the other step levels by stepping up patients to the Community Mental Health Teams who are Step 4 level support and working with GP's who are Step 1 level support.