Self Care for Carers
All the worksheets and information you need to put into practice what you've learned in our Self Care for Carers Class.
Thank you for joining us for our Self-Care for Carers class. We hope you found it helpful. This is a new class, so we'd be grateful for your feedback. If there's any way you feel we could improve it, or anything you think worked particularly well, please let us know.
What we learned
The 5 Ways to Wellbeing
We looked at the 5 Ways to Wellbeing, a set of simple ways to look after our mental wellbeing, just like getting our 5 portions of fruit & veg to look after our physical wellbeing.
These are:
Keep learning: Improving our knowledge and skills can boost our confidence and give a sense of achievement.
Connect: Our relationships, whether they're close friendships or just feeling part of a wider community, boost our resilience and help us know that we're not alone.
Take notice: Being aware of the present moment helps us to appreciate our experiences.   
Give:  Generosity gives us a boost too, and can give us a sense of purpose. And don't forget to be as kind to yourself as you are to others.
Be active: Movement boosts our energy levels and motivation, whether it's a marathon, a walk or a spot of gardening.
If you'd like some ideas for activities to try, take a look at our tips in How to do the 5 Ways to Wellbeing from home.
How our thoughts, feelings and actions are linked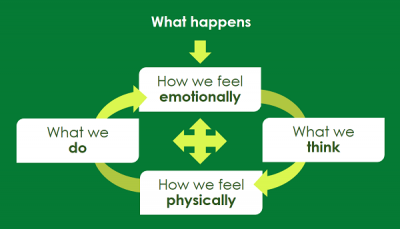 We introduced the "5 Areas" model from Cognitive Behavioural Therapy (CBT). This shows the links between what we think, how we feel both emotionally and physically, and what we do.
Although we can't just change how we feel, we can use these links to understand our wellbeing a little better and find small changes in what we do that could help us feel better.
Just like our physical health, we all have good days and bad days, and we explored some of the things that help with our mental health and have more good days.
Balancing our Time
We introduced a technique from CBT for balancing our time in the most helpful way for our wellbeing.
When it's not always possible to change your schedule, this technique can help you find ways to make the schedule you do have work best for you.  
How it works:
Step 1: Keep a diary of what you're currently doing
This might change week to week, but try to get a feel for the kind of activities you're doing, and where they tend to fit in your week.
Step 2: Balancing activities
See which category each of your activities fit into. This will be personal to you, as different people will see the same activity in different ways.
Necessary: Important things that have consequences if we don't do them. Doing them can help us feel secure.
Routine: Day to day things that keep things ticking over. Doing them can help us feel on top of things and comfortable.
Fun: Things we enjoy doing. Doing them can help us relieve stress and feel contented.
What kind of balance do you have over the week? Are they spread evenly? Are all your fun activities on one day, and all your routine activities on another?
Step 3: Set achievable and realistic goals
Think about some goals you could set to find a better balance. Even if you can't change the activities you do, could you schedule them so that the different kinds are spread out more evenly over the week?

Remembering "SMART" may help:
Specific: Be clear about exactly what you want to achieve.
Measurable: How will you know you've achieved it?
Achievable: Is this possible for you, with your skills and circumstances?
Realistic: Do you have everything you need? Are there things that might get in the way?
Timed: When will you do this? How long for?
Step 4: Plan for overcoming barriers.
Have a think about what might get in the way of your goals, and give some thought to how you might overcome those barriers.
Our top tips are:
Plan ways to reward your progress, to help yourself keep going
Put up a picture that reminds you of your goal, to help stay motivated
Start small – if it's hard to get started, the first step is too big!
Be kind to yourself – always ask, what would I say to a friend in this situation?
Make a plan B – if this doesn't work out, what might you do instead?
Further Resources
Tips for better sleep
If you have trouble sleeping, you might find it helpful to watch the Recovery College's video on understanding sleep. 
The Recovery College teach a wide range of courses to help you understand your mental wellbeing, continue your recovery and stay well. Now that you've attended Self Care for Carers, you can access Recovery College courses for free until 2 years after your last treatment with us.
And Solent Mind's Sleep Toolkit offers a range of resources for better sleep.
Relaxation Skills
To learn simple techniques for relaxation, watch the guided relaxation videos on our Relaxation Skills page, or join us at one of our Breathing Space classes.
Managing Worries and Recognising Unhelpful Thoughts
If you found the CBT techniques you learned in this self-care for carers class helpful, you may enjoy our range of wellbeing videos. They share more CBT techniques in short bitesized snippets, to help with a range of situations, such as managing worry, and recognising those unhelpful thoughts that can affect our mood.  
Or join our Managing Moods course to equip yourself with a full toolkit of CBT skills!
Other helpful organisations
Our colleagues at Southern Health are gathering a list of useful contacts for carers that you may find helpful.
And our helpful links page includes a range of other resources and organisations that could be helpful for your wellbeing.