Frequently Asked Questions
Q: Do I need to see my GP before accessing italk?
A: No, you can self-refer without seeing your GP
Although you don't need to see your GP before accessing italk, you may find it helpful to speak to them about your mental health. They can check that your symptoms aren't being caused by other conditions. They can also discuss medication with you, prescribe medication if appropriate and suggest helpful local services.
At italk, we provide talking therapies to treat symptoms of common mental health conditions. We do not diagnose and we do not prescribe medication.
Q: What area does italk cover?
A: italk is the local talking therapy service for most of Hampshire
If your GP is in the areas of Hampshire shown in purple on the map, italk is your local talking therapy service.
GP not shown on the map? 
See below for your local talking therapy service, for GPs in the following areas: 
Q: Can I access italk?
A: Yes, if you're aged 16 and over, you're registered with a GP in our area, and you're experiencing symptoms of a common mental health condition as your main problem.
If you're aged 15 or under, speak to your GP about support for children and young people. 
If you have been diagnosed with a severe and enduring mental health condition such as bipolar, schizophrenia or personality disorder, speak to your GP about your support options. IAPT services like italk are unable to treat patients with these conditions.
We may not be able to help if you require more specialist support than we can offer. For example if, alongside your symptoms of anxiety or depression, you are also experiencing symptoms of an eating disorder, drug or alcohol dependency, sexual dysfunction, gambling, porn or sex addiction. If this applies, please speak to your GP to be referred to the most relevant service.
As a primary care service we are unfortunately not equipped to support patients at risk to their own safety, or that of others. Please see our Urgent Help page for information about how to stay safe, and speak to your GP about accessing the most helpful service for your needs.
Q: Do I need to pay?
A: No, your treatment is free of charge on the NHS
italk is your local talking therapy service funded by the NHS to treat common mental health conditions.
Q: Can I have my appointments on evenings or weekends?
A: Our appointments are held 8am to 8pm, Monday to Thursday and 8am to 4.30pm on Fridays.
We understand that work, parenting and caring responsibilities can make it difficult to attend medical appointments in person. That's why we offer evening appointments, plus treatments by telephone and online, as well as face-to-face.
However, our evening appointments are very limited so there is typically a longer wait for these appointments. We encourage patients to use daytime appointments wherever possible, so that our evening appointments can be available for those who most need them.
If you find it difficult to arrange time off work for your treatment, you may find helpful guidance from Citizen's Advice. You can also ask your italk practitioner to introduce you to our Employment Advisors
Q: Can I reschedule my appointment?
A: Yes, if you are not able to attend your appointment, please let us know as soon as possible.
Call 023 8038 3920 or email info@italk.org.uk
If we are able to reschedule your appointment, we will do this as soon as possible. However, please be aware that this may not be possible. Out of respect for patients on our waiting list, we do not reschedule appointments in a way that would result in a delay to the next patient starting treatment.
We ask all patients to prioritise their italk sessions in the same way that you prioritise any healthcare appointment. Like many NHS services, cancellations and missed appointments waste treatment time, meaning people have to wait longer for our support. We appreciate you prioritising your sessions, to ensure everyone can receive the treatment they need as soon as possible. 
However, we understand that unexpected issues arise, and we ask that you let us know as soon as you are aware that you will not be able to attend your appointment. If you don't contact us, we may assume you no longer wish to use our service. To share our time fairly with all our patients, we will close your file if you miss two appointments without letting us know.
Q: Where can I find help with setting up Zoom?
A: Please see the guides below, available to download for guidance on how to sign up and download Zoom.
Also see below for guidance on how to test your Microphone and Camera if these are needed for your appointement or workshop. Please note most of our courses do not use your camera or microphone, your course or session details will explicitly mention testing your microphone and camera if these are needed. 
Q: How do I get back to the booking page to book my course, workshop or assessment?
A: There is a link to the booking page in the referral confirmation email you were sent after you referred.
Q: When are more time slots added to the booking calendar?
A: more time slots are added every weekday morning for appointments two weeks in the future, so please check a few weeks ahead of today's dates for available slots.
Q: Why, when I completed the self-referral form I did not receive a confirmation email and it said that you are going to contact me or I need to contact italk?
A: Based on the information you provided in your referral, we sometimes want to have a chat about what would best meet your needs, which may be different to the course, workshop or assessment route you have applied for.
Q: How can I find out my NHS number?
A: You can find out your NHS number from your GP surgery or use the online search at Find your NHS number - NHS (www.nhs.uk)
Q: How do I register with my local GP surgery?
 A: If you search for your local GP services on the NHS website: Find a GP - NHS (www.nhs.uk)
To register with your local GP you will usually need to complete an application form, have proof of identity and proof of address. If you need help with registering please contact the GP surgery you wish to join.
Q: who do I contact about my accessibility needs?
A: If you need any help with alternative formats or need an interpreter, or any other accessibility needs please call our admin team on 023 8038 3920 or email info@italk.org.uk.
Q: Why has my practitioner or therapist signed their letter and included their pronouns?
A: Its common practice for our practitioners to include their pronouns after their name (e.g. she/him/they) as many patients find this helpful and as part of our commitment to equality and inclusion. Pronouns are words that people use to refer to themselves or others without using their names. Personal Pronouns are the words that individual people feel most comfortable with when they are referred to by others. Using someone's correct personal pronouns is a way to respect them and create an inclusive environment, just as using a person's name correctly can be a way to respect them. Displaying our pronouns with our signatures is a way of saying 'I do not assume gender based on someone's name or how they appear' and 'please use these pronouns to refer to me'. It also signals to colleagues and patients that italk is a Trans+ inclusive space, that as a service we do not assume gender based on someone's name or appearance. If you would like to learn more about pronouns and why they're important have a look at www.mypronouns.org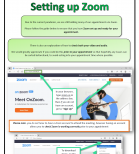 How to Test my Microphone and Camera are Working on Zoom
(Doc)
How to Get Set Up with Zoom
(Doc)