Wellbeing Videos
A series of videos sharing tips from our psychology experts to help you to look after your everyday mental wellbeing and stay well.
These videos aim to help you to look after your everyday emotional wellbeing, we hope you find them helpful.
To stay up to date with the latest videos as they're shared, follow us on Facebook.
1. How to plan your routine to stay healthy, happy and motivated
Different types of activities contribute to our wellbeing in different ways. In this video, we share how you can plan your routine to get the best possible balance.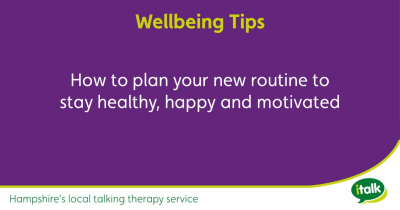 2. How to make the most of your time, when it feels like you don't have much of it
This video aims to help you take a look at your schedule, and see which activities are really worth your time, so that you can make as much time as possible for you. 
3. How to stay motivated when starting a new project or working towards a new goal
Our tips for how to plan ahead to prevent that feeling of demotivation or burnout that can derail a new routine or project before you reach your goal.
4. How to prevent those hypothetical worries from snowballing
This video shares some tips for managing those worries about things we can't do anything about, to prevent them from snowballing into something bigger, and getting in the way of our day.  
The app we mention is Reach Out Worry Time, available for Apple or Android devices. We've also found Worry Tree, available for Apple or Android devices, and you can find more apps on the NHS Apps Library.
You might also find these resources helpful:
5. How to move from worrying about problems to solving them
Following on from our earlier video on hypothetical worries, this video looks at those practical worries and how to solve them. When we're under pressure, our natural 'fight or flight' response can make it difficult for us to think through our problems, so these tips could help to resolve things more effectively. 
6. How to recognise unhelpful ways of thinking
This video looks at the link between our thoughts and our feelings. Have you ever noticed when we're having a good day, we're more likely to think optimistically and give the benefit of the doubt? And it can be the opposite on a bad day? 
This video teaches how to spot those "bad day" thoughts, so that you can decide whether that's what you really think or just the mood you're in. And in next week's video we'll share some tips on how to challenge them.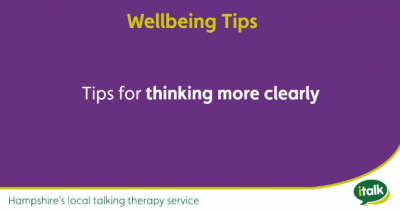 Coming soon
Follow our Facebook page to stay up to date with our new videos as they're posted.
We'll be sharing videos on:
Feeling more relaxed
Challenging those self-critical thoughts
Understanding our 'fight or flight' response
And more!